Good practices for forest buffers to improve surface water quality in the Baltic Sea region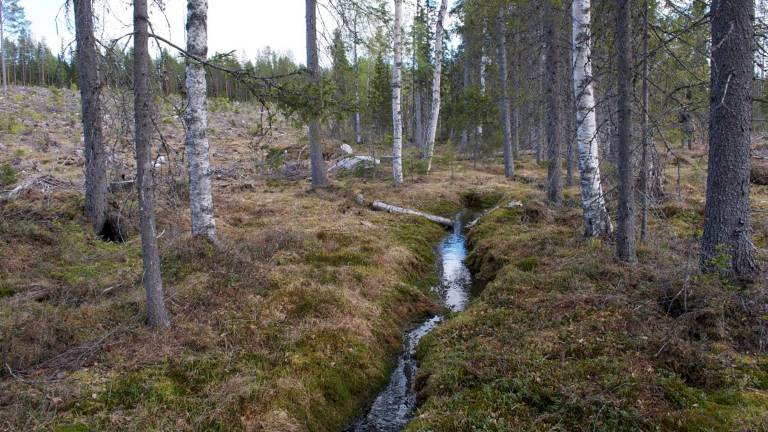 Foto: Eva Ring, Skogforsk
As a result of a joint project around the Baltic Sea, guidelines for forest buffers are presented in a new report. Skogforsk coordinated the work as part of an EU Interreg Baltic Sea Region project.
"Forest buffer" refers to a zone with forest left for protection along a surface water body when carrying out forestry operations, mainly harvesting. This report was produced as part of the WAMBAF project (Water Management in Baltic Forests), which was initiated to tackle problems associated with forestry activities in relation to water quality. Special emphasis is placed on surface water quality, and the export of nutrients, suspended solids and mercury.
The aim of the report is to present options for riparian forest management, including forest buffers, to serve as inspiration for developing on-site practices, national legislation and guidelines within the Baltic Sea region. Various approaches for riparian forest management are presented. Furthermore, overviews of the current management regimes for riparian forests are described for Estonia, Latvia, Lithuania, Poland, Sweden and Finland. Forests and water bodies within this region show great diversity and the recommendations presented must be adapted to local conditions.
Before implementing any of the measures proposed, it is essential to make sure that the measure complies with national legislation, other regulations and forest certification standards. Forest buffers may be valuable terrestrial habitats supporting important biota. In this report, however, the main focus is on how forest buffers and their management can be used to protect surface water quality, hence, not primarily terrestrial biodiversity.
The WAMBAF-project is financed by the EU Interreg Baltic Sea Region programme.
Read the report "Good practices for forest buffers to improve surface water quality in the Baltic Sea region"
12/4/2018 10:37 AM