Traceless – a step towards a forestry without soil damages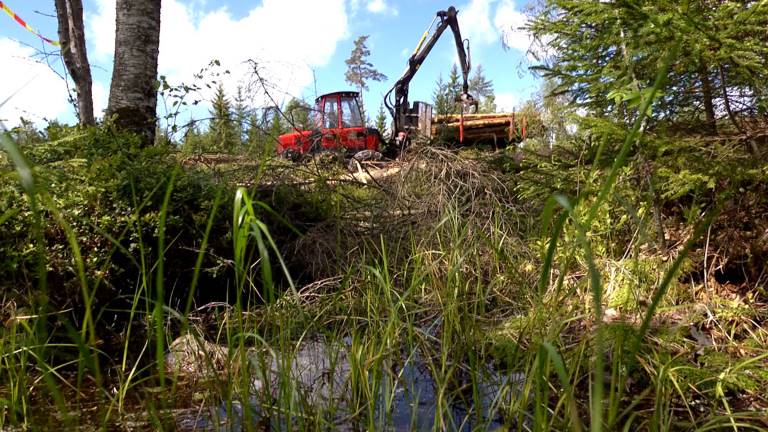 Today we have both knowledge and technology to harvest and transport timber with minimal damage to soil and water. In the film, Traceless, machine operators and researchers shows how it is possible.
Today forestry is conducted all year round regardless of weather conditions. The industry needs materials from the forest and the need is expected to increase as fossil raw materials are replaced by renewable sources. This means more terrain transports with increased risk of damage to soil and water.
– Today, we got the knowledge, equipment and technology to minimize impact on water and soil during harvesting. With this film, we want to make it easier for everyone in the business to do it right. We want to share both practical experience and the latest news from the research, says associated professor Lars Högbom, Skogforsk, who led the project.
In 'Traceless' the viewers will meet machine operators and forest entrepreneurs who embraced this knowledge and will show and suggest solutions. It may for example include bridge construction, branch mats for driveways and to use all the available information to avoid driving the forwarder in wet areas with poor bearing capacity.
Machine driver Jan Skogh, Stora Enso, provides tips on how logging should be planned. Forest contractor Inge Gustavsson leads a company that mainly harvests and hauls on low-lying land. Patrik Vidigsson shows how his company Vidigssons Skosavverkning works with digital maps of water and how the improved planning in the end also makes the work more efficiently.
– The film is free available on Youtube. Anyone can use it in different contexts. We believe, for example, that it can play a good role in various types of training, both for machine operators and planners, but also for politicians, says Lars Högbom, Skogforsk.
The film also imparted knowledge about the important link between the forest and water. Among the participants', scientists and specialists from Swedish Forest Agency, Swedish University of Agricultural Sciences and Skogforsk.
Traceless is about 30 minutes long and is produced by Heurgren Production on behalf of Skogforsk in conjunction with Norwegian Forestry Extension Institute and by grants from the Swedish Research Council – Formas.
3/21/2017 9:49 AM